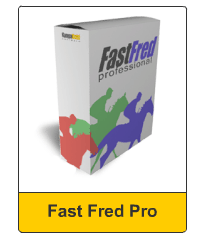 FAST FRED PROfessional Version 4.x is an advanced Windows-based software tool that's designed to provide a host of calculations for serious thoroughbred racing handicappers. It offers:
Past performance files can downloaded from PTS, Axcis, Bris, TSN or DRF. Accepts all Axcis formats, Bris single, MultiCaps, and multi files, and both TSN single and ProCaps.

Over 30 calculations for each horse including: Condition, Recency of Workouts, Days Since Last Race, Turn Time Form, Form Cycle (4 categories), Class, Class Category, Early Pace, Sustained Pace, Average Pace, Energy Distribution, Quirin Speed Points, Projected Fractions, Trainer Clues, Past Performance Clues, Trend Lines, Running Style, and Performance Class Rating.

User-selectable parameters to compute your favorite class and pace ratings.

User-adjustable weightings to compute projected odds for today's race.

Pace and class ratings by race for 4 to 8 (user-selectable) past performances.

Rankings by horse in 6 categories.

Ability to analyze up to eight past performances in detail.

Save your analysis to a historical file, then later add actual results for further analysis.

Create and save custom preference settings for any number of tracks, race surfaces, etc.

Let the software create a projected pace line or do it manually.

Multiple reports from very detailed to summary.

Reports can be printed, sent to screen, or saved to file.

Updates can be downloaded directly from the Internet - no cost, easy to do. Never pay again for any update, fix, or software upgrade!
Have an earlier version of FAST FRED PROfessional? All users with v3.54 and earlier can upgrade by sending $20 (plus $5.00 Priority Mail shipping) to KangaGold Software or ordering via our shopping cart.
View Sample Screen Shots of the Software
Download FAST FRED PROfessional Manual v4.0 (PDF File)
Important Disclaimer: Kanga Investments, dba KangaGold Software, makes no warranties, either express or implied, with respect to this software or its fitness for any particular purpose. It is offered here for entertainment purposes only and any other use is not recommended. In addition, KangaGold Software does not warrant the accuracy of the data provided by PTS, AXCIS, BRIS, TSN, or DRF, nor the accuracy of the resulting analysis provided by this software.