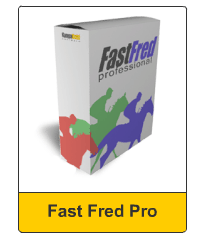 Customer Support :
CURRENT VERSION: Fast Fred Professional 4.x System
This version must be ordered using our secure server (select "Buy" along the left side of the screen),
then can be delivered on CD-ROM via Priority Mail
or can be downloaded from our secure server.
LATEST PATCH/UPDATE: Fast Fred Professional 4.20
This update can be downloaded here and added
to the Fast Fred Professional 4.x System,
to provide the latest fixes and additions.

Download FFProPatch420

You can determine your current version by opening
the program and looking at the top of the screen.

After downloading the patch/update, simply double-click
to install it. (Check top of FFPro screen to verify.)

Version 4.02 fixes an issue with loading Bris Single files.

Version 4.04 includes 4.02 fix, plus adds several nice alternatives to the Screen Report, including PP's and options on the order to display horses.

Version 4.06 includes 4.04 fix, plus improvements to Context-sensitive Help and a fix for importing Formulator 4 files.

Version 4.10 includes 4.06 fix, plus a fix for calculating DRF Formulator data on turf races and on Formulator 4 files, plus a fix to handle races that were declared non-races for wagering purposes.

Version 4.12 includes 4.10 fix, plus a fix for DRF Formulator data on artificial surfaces, plus a fix to handle printing of "even money" morning lines.

Version 4.14 includes 4.12 fix, plus an update to
the April 2009 ATM Pars for over 100 tracks.

Version 4.16 includes 4.14 fix, plus an update to
allow input of Bris MultiCaps files.

Version 4.18 includes 4.16 fix, plus an update to
work with Windows 7 and Vista.

Version 4.20 includes 4.18 fix, plus an update to
allow more than 20 horses in a race.
KangaGold provides lifetime Email support for Fast Fred Professional. The fastest way to reach our customer service representatives with questions, comments, or technical questions is via Email at info@kangagold.com
KNOWN ISSUES:
The program does not handle long directory names when unzipping Bris or TSN files. Limit all directory and subdirectory names to a maximum of 8 characters.

The program does not like spaces in any directory name. Use \TSNdata, not \TSN Data.

Many users have trouble moving PKUNZIP.EXE to their Bris or TSN data directory. To do so: (1) Insert the CD - it will try to install but click Cancel... (2) Use My Computer, right click on the CD drive, and choose Open to see the contents of the CD... (3) From the \PKWare directory, copy the file PKZ204G.EXE to your Bris or TSN directory... (4) Double click on the file in the Bris or TSN directory to unpack the contents... (5) Verify that you now have PKUNZIP.EXE on that directory.

The program builds an array of potential race cards prior to importing... and depending on other programs running, the size of this array could cause the program to abort (it takes hundreds of race cards in the same directory to cause this). To avoid this problem, you should periodically archive old race cards.

Formulator users: When you export your race cards from Formulator, DO NOT include column headers.

Bris users: If you use both Bris Single files and Bris Multi files, DO NOT store them in the same directory.
Defective disks should be returned to:
KangaGold Software
11600 Normandale Road
Bloomington, MN 55437
Important Disclaimer: Kanga Investments, dba KangaGold Software, makes no warranties, either express or implied, with respect to this software or its fitness for any particular purpose. It is offered here for entertainment purposes only and any other use is not recommended. In addition, KangaGold Software does not warrant the accuracy of the data provided by PTS, AXCIS, BRIS, TSN, or DRF, nor the accuracy of the resulting analysis provided by this software.
Have an earlier version of FAST FRED PROfessional? Users with 3.54 and earlier, send $20 (plus $5.00 Priority Mail shipping) to KangaGold Software or order via our shopping cart.